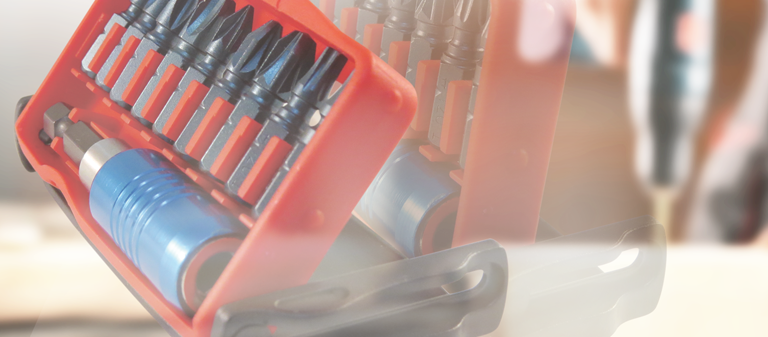 Products
Torsion Double End Bit : PATENTED
Every basic construction work requires an impact driver, whether for handing the door or fitting a shelf. However, in practice, the impact driver will deliver rotational and linear blows that can loosen the screws and force the bit into the screw. Torsion double-ended designed bits are the perfect solution, doubling their operational lifespan and allowing fast bit changes.
What is the difference between drill and drive?
Power and rotation are the primary factors that differentiate drills and impact drivers. Impact drivers come with a quick-release shank that allows all ¼ ich hex driver bits. A power drill and driver bits will allow you to drive and remove screws much more efficiently and quickly.
Drill bits are made in various styles and shapes to fit every project's needs. However, every homeowner should have a set of nut drivers that will allow one to either tighten or lose the head of nuts and screws at ease. The nut drivers are available in different sizes, including 3/16, ¼, 5/16, 11/32, 3/8, 7/16, and ½ inches.
Do I need to buy torsion double-ended bits?
The high torque delivered from impact drivers will easily damage standard screwdriver bits. But with RM e-bit's Torsion Double-ended Bit, you can experience the performance beyond your expectations, and it can last up to 10 times longer than the standard one.
It is ideal for self-drilling and long wood screws due to its consistent high torque fastening with impact drivers.
Our Advantages:
Extraordinary design of the long torsion zone absorbs extra power from the driver and turn-down groove; the bit provides a longer lifetime.
Specially designed for light duty applications.
Both tips of the bit serve different functions.
Ideal use for assembled screws.
Used for a longer lifetime than that of competing products due to the specially designed torsion zone
Phillips Torsion Double End Bit
Phillips Torsion Double End Bit