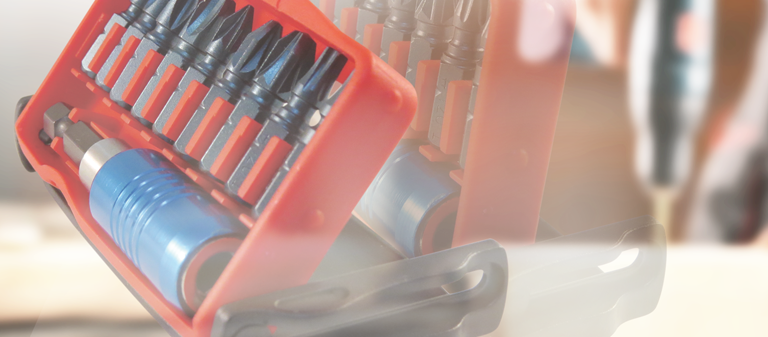 Products
Screwdriver Bits
Screwdrivers are available to fit a wide range of screw bit types. They come in various lengths, grips, and styles, all designed to fasten screws effectively. But which screwdriver bits do you use for different applications, and which are the most effective?
We will try to go through each bit, including the speciality bits, and offer you the benefits and drawbacks so you can understand them and pick the best bits for your application.
Screwdriver Bit Types
There are many reasons; some are patented because they provide a one-of-a-kind method for retaining a driver bit in place.
1. Phillips Head Screw Bits
The Phillips head bit has to be the most frequently used fastener. These screwdrivers have a pointed crosshead tip corresponding to a self-centering crosshead screw.
2. Hex or Allen Head Screws and Bits
Hex head screws, commonly known as Allen screws, are a useful fastener because of how well they prevent slippage.
3. Torx Bits and Torx Plus Bits
These six-pointed bits are more resistant to slipping and cam-out than slot or head versions.
4. Torx vs. Torx Plus
Torx plus was an upgrade to Torx that squared off the edges of the star shape.
5. Square Drive Screw Bit
Square drive bits, sometimes known as Robertson bits, are used in various applications.
6. Triple Square Drive Bits
Triple square drive bits are typically used in automobiles, ideal for high-torque applications.
Rust Removal
Rust is formed when water, oxygen, and iron or steel react chemically. Rust can be removed by following these steps:
Sanding is a smart place to start when it comes to eliminating rust from tools.
For tools with broad patches of rust, the vinegar and salt approach work well.
For minor patches of rust or rust spots, baking soda works nicely.
If none of the other rust-removal procedures works, oxalic acid is a commercial rust-removal solution that dissolves rust quickly.