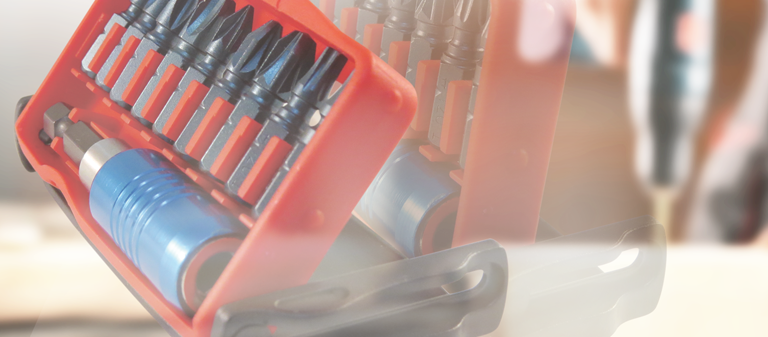 Products
Power Tool Accessories, Drill Accessories
Is your shop fully stocked with the latest power tool and drill accessories? Discover everything you need in this starter guide to power tool accessories.
The most used power tool is the power drill with 84% of contractors saying this is the tool they turn to the most.
But the right power tools will only take you so far.
The secret to success is having the right power tool accessories.

The right accessories help you to spend more time working and less time switching between tools.
Find out the latest power to accessories in this starter guide.
1. Bit Holders
This handy little power tool accessory is a must-have for your drill driver. It has a hexagonal steel bar that grips the chuck. Then on the other end, it has a chrome steel cylinder. You can slide any screwdriver bit into it. It is easier to slide any screwdriver bit into it.

Inside of the chrome sleeve is a magnet that holds your bit in place. Standard steel screws are magnetized, so they stay in place on the bit and make working much easier. When you're ready to move onto a different size screw, you can efficiently change out the bit by replacing the one in your bit holder.


2. Quick Release Chuck
If you work with a cordless screwdriver, then you need a quick release chuck, also called a quick-change chuck. This power tool accessory has a spring-loaded outer sleeve and hidden ball-bearings on the inside.

To work your chuck, you'll pull or push the outer sleeve backward to compress the ball bearings and allow you to insert or remove a drill bit. This quick-change solution enables you to move between drill bits quickly when using your power screwdriver or electric drill. You can then spend more time being productive and less time changing out your drill bits.


3. Nut Setters
A nut setter is an impact driver or power tool accessory that helps you when driving lag bolts or screws. The best time to use this accessory is in high torque applications when working with nuts, bolts, and hex head screws.

There are four types of nut setters, hex, lobular, impact, and torsion. Look for a nut setter that has a deep well and is made of durable materials. Having several nut setters of different sizes and lengths ensures you can hold a wide variety of bolts.


4. Bit Sets
The right drill bit set will help you be more productive and complete projects faster. But having the right set is about more than just having several sizes. You also need to think about the material the bits are made out of.

Choosing the right material will depend on the project you're working on. This means you'll need several sets to ensure they perform well and last. Here are the types of bit material you can choose from.
Carbide Tipped
Cobalt
High-speed steel
Steel
Titanium coated


Besides these major power tool accessories, other tools kits and high-quality power tool accessories are:
1. Socket Adaptors
Available in black oxide, sanded, or zinc plated finish, it is the best compliment for any power screwdriver or electric drill.

2. Screwdriver Bits
These bits are used for drills of variable speed and cordless screwdrivers. They have a longer shelf-life and high torque transfer.

3. i-Bit / Torsion Bits
The plastic collar design makes this power tool accessory highly durable for any power screwdriver or electric drill.

4. Socket Bits
This power tool accessory is made up of high-quality steel. It ensures optimal power density without wasting energy during heavy loads.

5. Hose Clamp Driver
The flexible hose clamp drivers can be utilized for hard-to-reach places like ventilation ducts or machinery compartments.
Be More Productive With the Right Power Tool Accessories
Having the right tools help you do a job. Having the right tool accessories help you get that same job done better and faster.

Contact our knowledgeable team today and let us help you outfit your tool kit with the best quality power tool accessories.